Introduction
Wire Mesh Trays provide maximum cable ventilation, limit dust build-up and is easily cut to size on site for non-standard shapes, increasing the product's versatility and usefulness.
It is used in horizontally or edge mounted applications over spans of between 1,8m and 2,5m at design working load.
Wire Mesh Trays are manufactured using a resistance butt welding and press braking technique in 3,0m lengths using 4,0mm and 5,0mm diameter wires for GS50 and GS75 respectively.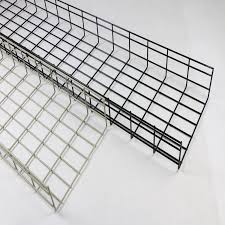 Products